Bag on Valve – Research & Development
We've provided many bag on valve aerosol filling lines to customers all over the world. And we are aiming to give you the most appropriate and cost-effective BOV aerosol filling machines. Collaborated with colleges and universities, our technicist and researchers have entered into the aerosol field for over 20 years. Not only Bag on Valve support,  with the investment and stress we give to R&D, we are always able to keep pace with the most leading aerosol filling technology.
Among the aerosol filling fields, we are especially specialized in PU foam sprayer, aerosol pesticide, perfume spray, aerosol spray paint, auto car care aerosol, household detergent, personal care aerosol and etc.
Aerosol Filling Machines
The qualified aerosol filling machines are design and manufactured by our professional team which has specialized in this field for two decades. When we design the outlet of aerosol filling machine, we always stand for customer's point, not only considering the practical performance, but also take the filling speed, filling accuracy, and work stablity as well.
When we manufacturing the aerosol filling machines, we stick to the quality of every separate part. No matter how small of the part is, even a screw nut, we treat it as an important link as it can definitely affect the performance of the running process.
Each area of HDC advanced facilities was developed to help us be as adaptable to our customers' needs as possible.
Wide range of aerosol filling machines, manual operation aerosol filling machines, semi-automatic aerosol filling machines, automatic aerosol filling machines, high speed aerosol filling lines, etc. Make a choice as you need.
Exported from banding supplier for core pneumatic driven parts, safety guarantee for every single aerosol filling machine.
Our aerosol filling lines are just as adaptable, able to fill high or low volumes, aluminum or steel and with nearly any style cap.
Bag On Valve Filling Technology Support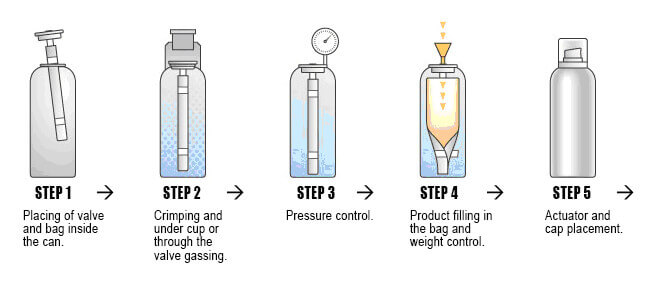 Bag on valve filling technology is a recent trend aerosol filling technique. This filling technique helped us fixed many unusual filling issues. Bag on valve filling technique usually used for those who have high requirements of environmental friendly aerosol products and prone to be corrosion products, such as cosmetic products, aerosol food sprayer products, etc.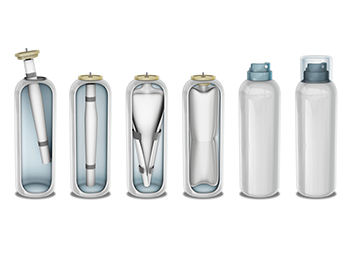 Bag-on-Valve Filling Process
With BOV technology, we place your product's contents into a composite bag, keeping it completely separate from any propellant, can or external contamination. We then pressurize the space between the bag and the can with nitrogen or compressed air. When the end-user presses down on the actuator, the product is squeezed out of the bag by the propellant, producing a continuous spray that is identical to an aerosol. We are now able to provide our customers professional bag on valve aerosol filling machines, both semi-automatic and fully automatic.
Features Of These Bag On Valve Aerosol Filling Machines
Easy to use: With programable PLC control, our BOV aerosol filling machines are rather simple to operate. You can finish different settings through touch screen(monitor). No basic knowledge needed and anyone can take control of the machine quickly.
Safety guarantee:We use Siemens PLC system and Schneider component which give better performance. The machines are designed to be pneumatic driven, no electricity, fire, or other dangerous elements.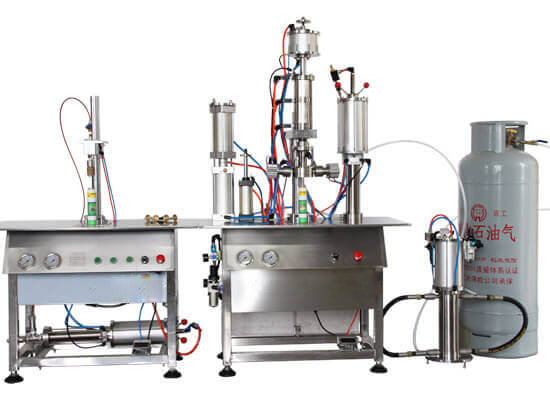 Additional Advantages For Manufacturing Your Product With Bov Technology
1.Dispense the product in any form, such as liquid, gel or cream.
2.Continuously sprayfrom any angle, even upside down.
3.Package your product with a standard actuator in steel or aluminum cans.
4.Complete protection from oxygen exposure, eliminating the need to add preservatives.
5.No chilling effect.
Reliable After-sale Service
Our service does not end with the end of sales. Every successful purchase is just the starting point of our cooperation. Every HDC customer will receive a 3-day training on the use of aerosol filling machine, and there will be an engineer as a special guide 1vs1. From site selection to factory layout, equipment installation and commissioning, we all provide the most detailed suggestions and support.
Quality Assurance
We don't reduce the price at the cost of quality downgrade. The core components are all well-known brands, which tested by stable use experience and longer service life. HDC has exported to more than 130 countries and regions, quality is our lifeline. Selection of raw materials and core components, control of production process, inspection of testing, comprehensive packaging and reliable transportation services; we won't ignore every detail, details accomplish the quality.
One More Step for Customers
As a manufacturer of aerosol filling machine, we not only provide production equipment, but also provide knowledge of aerosol can purchase (steel or aluminium), way to improve production efficiency, key point for marketing and other additional info to help our aerosol customers establish their own aerosol production and sales career better.